While there are all sorts of activities you can participate in at Daystar Retirement Village, each person will be individually evaluated for their personal needs and goals. That way each resident has recommendations for fitness activities they can enjoy without worry. Most fitness activities are done in groups so it's also a great way to socialize with your friends and neighbors, too! Here are some of the fitness activities you can enjoy at Daystar as you improve your health and quality of life. You should try to participate in all four areas of exercise. Some of these activities listed below will fall into more than one category:
Walking
Walking is one of the best exercises for any age, and seniors who are ambulatory will especially enjoy a daily walk. Start out at a comfortable pace and go as far as you're able, then up the pace and distance gradually. Walkng boosts your brain activity and is a great way to socialize with your friends, too.
Swimming
Swimming is an excellent choice of exercise because the buoyancy of water supports your joints and can reduce pain. As with all exercise, don't overdo it when you're beginning! Swimming can increase:
Muscle strength
Balance
Mobility
Water Aerobics
Water aerobics are especially good for seniors who are chair bound because the buoyancy allows you to be more mobile. Like swimming, water aerobics takes the stress off your joints and gives you more mobility. Basically you can do everything you would do in a regular aerobics routine but it's easier because the water takes the weight off your body.
Yoga
Yoga (even chair Yoga) should be top on your list of exercise because the benefits are too numerous to list. However a few ways Yoga helps:
Balance

Flexibility

Strength

Emotional wellness

Could reduce risk of Alzheimers
>>Find out more about the Power of Yoga<<
Cardio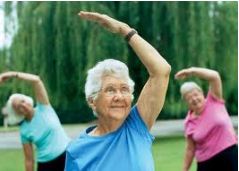 Cardio is basically any type of exercise that raises your heart rate, so if you prefer your exercise on gym equipment or in a game look for machines that boost your beat. Ellipticals, treadmills, and cross country machines are good examples of gym machines that will give you a cardio workout. Likewise, golf, balloon volleyball, and similar games will give you a great workout, too.
Physical Therapy
Physical Therapy (PT) doesn't sound like exercise but it is! PT is designed to strengthen a specific area that's been injured, so if you're doing PT make sure you continue the routines and follow your therapist's recommendations in between visits.
Zumba
Zumba put simply is moving to music so it can cover all four areas of exercise. It can also be done from a chair so it's a perfect fit for many seniors. Because you'll learn routines it boosts your brain, too. Zumba aids in heart health, can lower blood pressure, boosts your balance, lets you stretch, and improves balance. You can also socialize while you're doing it!
Tai Chi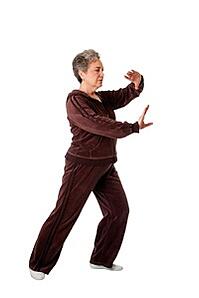 Tai Chi (even Chair Chi) is a series of poses, similar to yoga. Again, it's a perfect exercise for seniors because it improves balance, flexibility, and strength while clearing your mind and improving your memory. As a bonus, tai chi can be performed at any speed so you can also go faster and use it for endurance training. According to Harvard University tai chi can alleviate pain, ease arthritis, reduce blood pressure, and lower your risk of falls because it improves your balance. Because of the variety of poses you can do tai chi while sitting if you're chair bound or unsure of your balance.
Learn more about Tai Chi
Dancing
Dancing doesn't sound like exercise but it is! Dancing can improve your balance, make you more flexible, improve your strength, and if you kick up your heels for hours you'll have endurance exercise, too!
Resistance Bands
Resistance bands may seem like a simple routine but in fact they do a great job of strengthening your muscles. Using bands is a low impact way of gaining strength and flexibility so you might want to include them in your daily routine.
Stretching
Stretching doesn't sound like exercise either but in fact it improves your flexibility and balance. Go slow and enjoy yourself while you stretch and you may be amazed at how well it works, especially if you have arthritis.
No information about fitness would be complete without a word about diet because what you eat is the fuel for your energy level. Make sure your food choices are healthy and balanced so your body runs efficiently while you're gaining strength, endurance, flexibility, and balance! At Daystar Retirement Village it's easy to refuel properly because of the wide variety of healthy food choices, so remember to take it easy on sweets and go for the proteins and vegetables as often as you can.
While we're talking about fitness remember your brain needs regular workouts, too! Feel free to play board games, cards, and puzzles, and read a variety of subjects. Last but not least, remember to socialize while you're getting fit because that keeps your emotional health fit, too!